Welcome to the Highschool DxD Fanon
Welcome to the High School DxD Fanon Wiki!!! This wiki is about the famous anime and novel series, High School DxD. You can create new characters relating to High School DxD, so please have fun and be creative. Also, remember that anyone can edit!
About DxD
Highschool DxD is a Japanese Light Novel series, serialized by Fujimi Shobo's Dragon Magazine, created by Ichei Ishibumi, and illustrated by Miyama Zero. The first volume released on September 20, 2008 and has now continued on to have a total of 22 volumes as of July 20, 2016.
The story revolves around a human named Issei Hyodou, who turns devil after being killed by his first girlfriend, Yuuma, and reincarnated into a devil by Rias Gremory. Issei now meeting a whole new world which was always thought to be stories and myths, strives to make his own harem and become the "Harem King", while also fighting demons, dragons and even Gods themselves.
A manga adaption, illustrated by Hiroji Mishima, has also been released by Dragon Magazine. It was then moved to Monthly Dragon Age and it has released seven volumes as of December 9th, 2014. There has also been two spin off series, "High School DxD: Asia and Koneko's Secret Contracts!?", which follows Asia doing her first set of jobs with the help of Koneko. The second one being High School DxD: The Work of a Devil, which simply consists of the short stories that were already seen in the Light Novels.
An anime adaption has also been announced, as of January 6th 2012, and has had a second season which aired on July 7th, 2013. There has also been an announcement that a third season will premiere April 3rd, 2015. The anime is produced by TNK, and has aired on the Japanese channel At-X. As of now there has been 27 episodes, including OVA's, produced by the studio. The Anime has, so far covered all of volumes 1 to 4, and is probably going to cover volume 5 to 6 in the third season.
Affiliations

Featured Media
Rejoice, perverts! Season 4 of Highschool DxD Announced for our joy!
Discussions
New Rule and its about tags
Fanon Featured Article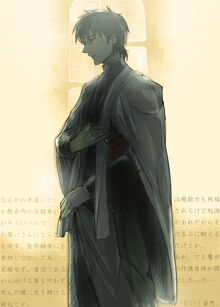 Tiberius Caesar is the main male protagonist of The Fifth Hero of the Underworld. He is a low-class Devil military, and political leader who rose to prominence during the Great War and one of the front line leaders during the Devil Civil War..


- If you want to know more about this character, ask the author Created by Wakaruzei21
Ad blocker interference detected!
Wikia is a free-to-use site that makes money from advertising. We have a modified experience for viewers using ad blockers

Wikia is not accessible if you've made further modifications. Remove the custom ad blocker rule(s) and the page will load as expected.